100% unverarbeitete Jungfrau-Menschenhaar-Körper-Wellen-Spitze-Front-Perücke 150% Dichte Verwicklungs-freies Lacefront Perücken-Menschenhaar
35,99 $ - 66,99 $
/ Stück
|
1 Stück
(Min. Auftrag)
Farbe:
Ausgedehnte Länge:
All 5 Options
0piecesausgewählt US $insgesamt
Details anzeigen
Versandkosten:

Bestätigen Sie die Menge der Waren.
Lieferzeit:

5 Tag(e) nach Eingang der Zahlung
Anpassung:

individuelles Logo

(Min. Auftrag: 1 Stück)
Übersicht
Kurzbeschreibung
Ursprungsort:

Beijing, China
Markenname:

ATOZWIG
Modellnummer:

MFTB020312-N-14I-SL
Haar-Grad:

Non-Remy Hair
Virgin Haar:

Keine
Menschenhaar-Art:

brasilialische Frisur
Gewicht:

200G
Art:

Körper-Welle
Technik:

Hand gebundene Perücke
Länge:

8-16 zoll
Lace-Perückentyp:

Spitzen-Front-Perücken
Dichte:

130%, 150%, 180%, 150% -- 250%, andere dichte können anpassen für sie
Wigs Length:

Kurzschluss
Cap Size:

Average Size
Suitable Dying Colors:

All Colors
Color of Lace:

Mittelbraun
Grundmaterial:

Swiss Lace
Typ:

Lacefront perücken menschliches haar
Haar material:

100% unverarbeitete Reines Menschenhaar
Haar farbe:

Natürliche Schwarz
Textur:

Körper Welle menschenhaar spitze frontal perücken
Qualität:

8A Grade
Haar Schuss:

Doppel Gezogen Menschliches Haar Schuss
Hand gefühl:

Weiche Glatte berühren
Andere stil:

Gerade/körper welle/lose welle/welle welle
Vorteil:

Kein Verschütten. keine Verwicklung
Material:

Menschliches Haar
Verpackung & Versand
Verkaufseinheiten:

Einzelartikel
Einzelverpackungsgröße:

30X20X10 cm
Einzelbruttogewicht:

0.2 kg
Verpackungstyp:

1. Synthtic wig: PVC bag for each wig and one paper card for fix the wig, outside another PVC bag 2. Human hair extension : PVC bag for each bundle , outside another PVC bag 3. Human hair lace Wig : PVC bag for each bundle, one high quality and fashion package box outside 4. One hang tag per wig . 5. All the hair will be packed with carton for the large order
Bildbeispiel:
Lieferzeit: :

| | | | |
| --- | --- | --- | --- |
| Menge(Stück) | 1 - 100 | 101 - 1000 | >1000 |
| Voraussichtl. Dauer (Tage) | 5 | 15 | Zu verhandeln |
100% Unprocessed Virgin Human Hair Body Wave Lace Front Wig 150% Density Tangle Free Lacefront Wigs Human Hair
Products Description:
Products Name

100% Unprocessed Virgin Human Hair Body Wave Lace Front Wig 150% Density Tangle Free Lacefront Wigs Human Hair

Hair Material

100% Brazilian Virgin Human Hair

Hair Color

Natural Black human hair lace frontal wigs

Texture

Body Wave human hair lace wigs , other texture can do OEM

Available Length

8-16 Inches

Measurement

Stretch the hair to be straight then meansure it the real lengh

Net Weight

200G lacefront wigs human hair

Cap Size

Average size , you can adjust the size by fix the bands by yourself

Advantage

1.Soft, no tangle and no shedding.

2.you can dye, bleach, iron as well.




3.After wash, it returns same texture.

Samples

Samples testing order available

Shipment

DHL/TNT/FedEx or Your Collect Account

Payment

Pay pal, T/T, Money Gram, Western Union

OEM

Just let us know what style you like then can make the sample for you

Leading time

Sample time 7-12days .Bulk 25-40days
More Detail Show :
Human Hair Wigs Feature :
1.8A Unprocessed Brazilian Human Hair Wig with Baby Hair around,Bleached Knots and Natural Hairline.
2.Cap Size:Medium Cap(22-22.5inch) Have Combs and Adjustable Straps
3.Hair Color:Natural Color, can be dyed any color by yourself.
4.Lace Color:Medium Brown (This color is suitable for most women)
5.Same pattern after washing ,can be flat iron and restyle
More Color For Your Choose:
Multi-choice Series Products For Your Choose:
Human Hair Extension
Material : Brazilian Hair/ Peruvian Hair / Indian hiar / Malaysian Hair / Burmese Hair/Europe Hair, etc.
Textures Available :Body Wave, Silky Straight, Deep Wave, Loose Wave, Natural Wave, Kinky Curly, Yaki
Human Hair Closure
Size:3.5x4/4x4/13x2/13x4/360 closure ( 22.5x4x2) and top silk closure
Part:Side part/middle part/free part Length : 8 Inches --20 Inches
Advantage of Synthetic Wigs
1.Many options for color, length and texture 2.A more affordable price tag
3.Availability at most beauty supply stores 4.Easy attachment for do-it-yourself styling
Human Hair lace frontal Wigs: L part / 4x4 / 13x4 /13x6/ 360 / U part
Advantage:Natural & 100% human hair/ Free from dyes/No special Shampoo/Long lasting/Health friendly
Human hair full lace wigs advantage:
1.Can be worn as a natural hair to cover your baldness or to add a different style.
2.The full lace wigs are much more flexible compared to the lace front wigs.
3.Especially ideal for those who have failed trying to find a solution to cover their retreating hairline
4.Wearing full lace wigs are that they help you achieve a natural look
5.Available in a wide range of hairstyles. They can be easily combed and braided or created into ponytails.
Company Information:
We are professional beauty products supplier and we have been committed to producing wigs for 10 years, we distribute high quality heat resistant synthetic fiber wigs, human hair wig , entension and closure .
Factory Show :
Sample Room :
Certifications:
Company Culture Show : 2 times outdoor team building development activities each 1 year :
ATOZWIG Service :
1.Strict Quality Control System : Quality-controlled team, each item has to go through careful inspection.
2.Audited Factory Supplier : Certificate available, Hair export experience and professional!
3.Sales Support : OEM / ODM available will be provided to increase your business selling.
4.Timely Customer Service: We have thoughtful service to ensure your different demand within 24 hours
5.Professional Services Bulk and sustainable stocks for your urgent demand Quick Delivery
Human Hair and Wigs Clean & Care Tips For You:
1.Use the large-toothed combs and combed the hair carefully with the same direction of hair styling .
2.It is best washed in specialized cleaning salon every few months.
3.During cleaning do not turn out the wig inside out. It is better to use a shampoo for dry and sensitive hair.
4.Caring for the wigs made of natural hair is similar to caring for a person's own hair.
5. When washing the wig or extensions it is necessary to apply high-quality cleaning and other means
6.Human hair, in contrast to synthetic fibers,It is more flexible and elastic material.
7.Gently comb the wig or extension and remove any knots, because after washing it will become very difficult.
8.Carefully wash the wig with warm water. Highlight any part of the forehead of the wig, as it may be really dirty.
9.Rinsing should be done in cold water pouring in a direction from the roots to the ends of the hair.
10.The wet wig is wrapped in a towel and gently pressed. Dry it on a towel at room temperature
11.Comb and style your hair only when it is dry,Products need to be washed 1 time in 2-3 months.
13.Natural hair can be colored and styled as you wish!
Samples : 5-7 days Via Express ( DHL / FEDEX / TNT / UPS )
Bulk Order : 10-18 Days By Air , 20-38 Days By Sea
Due to the different monitor and different light, there may have slightly color difference between the picture and the real item, which is normal.
2.Hairstyle Difference:
The wigs on the image has been styling slightly before we take photo, and your wig comes with a basic style, which can be cut and shaped by yourself or a professional hair stylist to customize the look base on your need.
3.Tangle And Shedding
Any wig will tangle more than your real hair because your scalp produces natural oils that keep your own hair from drying out and getting caught in itself, and of course wigs do not do that, that's why synthetic wigs are happened to minimum shedding and tangling, which is normal.
4.Wash & Blow-dry
We recommend to use a hair treatment on them every few weeks because the hair is not attached to your scalp.Using a treatment hair mask will need to wash your hair too much, about every 3 weeks. The hair can be blow-dried on low setting, but it is not recommended to do it too often.
5.How to tell human hair with synthetic hair?
You can tell by burning and smell : human hair will be ash and show white smoke which will go away after pinching while synthetic hair will be a sticky ball after burning and will show black smoke.Moreover, human hair may have very few gray hair and split ends. It is normal and not a quality problem.
ATOZWIG can help you to make a perfect looking for costume party, Halloween, concerts, wedding, dating, daily use and any other occasions.you can be versatile with wigs as they come in various styles and color. Get your confidence back with an awesome new look!
ATOZWIG -- JUST FOR YOUR BEAUTIFUL !
WhatsApp: 86-18511921256
Skype : ATOZWIG
Mob/Wechat : 86-18511921256
Beijing Ousimei Technology Co., Ltd
Diese Ergebnisse für Produkte oder Lieferanten wurden für Sie mit Sprach-Tools übersetzt. Wenn Sie Vorschläge für unsere Übersetzungsergebnisse haben,
bitte helfen Sie uns besser zu werden
Alle Produkt- und Lieferanteninformationen in anderer/anderen Sprache/Sprachen als Englisch auf dieser Seite sind Informationen von
www.alibaba .com
übersetzt automatisch von dem Übersetzungstool. Wenn Sie irgendeine Frage oder irgendeinen Vorschlag für die Qualität der automatischen Übersetzung haben, schicken Sie uns bitte eine E-Mail an (E-Mail-Adresse). Alibaba.com und die Partnerunternehmen übernehmen keine Gewähr, ausgedrückt oder impliziert, und keine Haftung für Verluste, wegen automatisch übersetzten Informationen oder die durch technische Fehler des Übersetzungstools entstehen.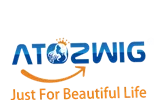 Beijing Ousimei Technology Co., Ltd.
2
YRS
CN
Handelsgesellschaft